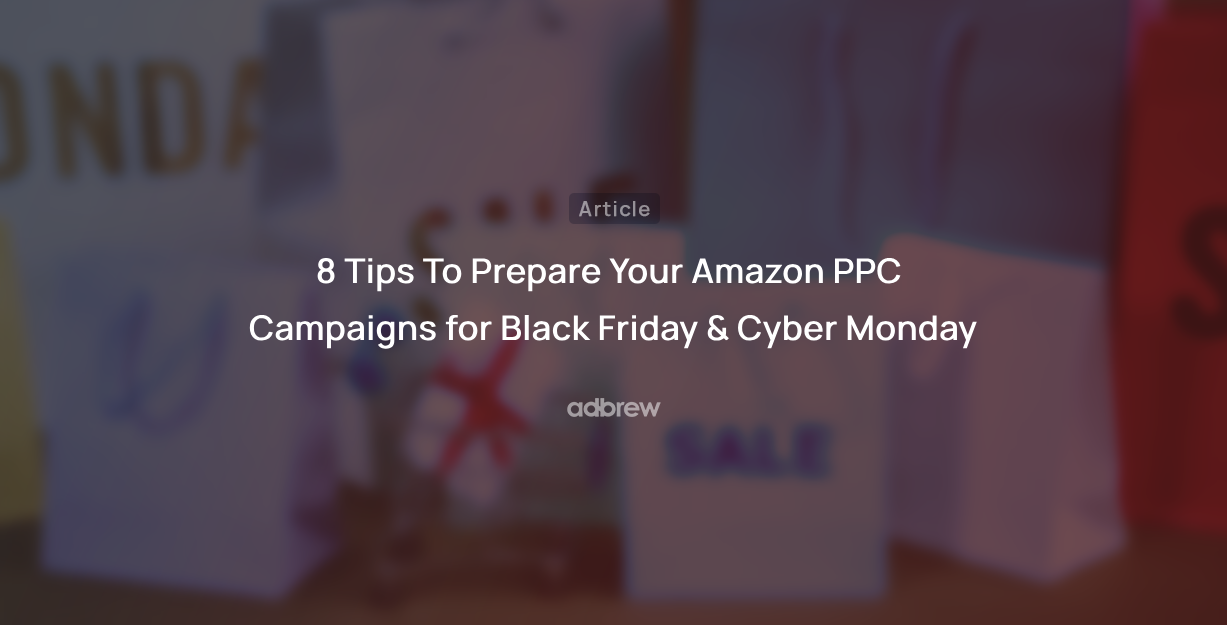 The Amazon Black Friday and Cyber Monday sale is just around the corner.
It's no secret that this marks one of the most significant holiday seasons, representing a crucial time for online retailers.
Last year, Amazon shattered records with its biggest-ever holiday shopping weekend, and the momentum is expected to surge even further this year.
Thus, if you haven't planned your Amazon Ads strategy for the Black Friday and Cyber Monday yet, you're on the brink of missing out on a golden opportunity
In this blog post, we will share 8 quick tips on how to get the most out of this sales event from your Amazon PPC campaigns.
1. Clean Up Your Amazon PPC Account​
Amazon PPC campaigns require regular monitoring and optimization. If you haven't manually audited your account for a while, you may notice the accumulation of a significant number of 'undeliverable' and 'low performing' targets and search terms over time. 
Before any major sales events such as Prime Day or Black Friday, it's always recommended to conduct a comprehensive account audit to address various hygiene issues and take appropriate measures to resolve them.
So, what do we mean by 'cleaning up'?
Pause all the targets that have received limited impressions in the last 30 days and have bids that are already too high.
Negate all irrelevant search terms that have generated significant clicks but haven't resulted in any orders in the past 30 days.
Pause targets with an ACOS 2–3 times higher than your target ACOS or with notably low conversion rates and high ACOS.
Pause campaigns that haven't performed well in the last 30 days (campaigns with significantly high ACOS or a low conversion rate).
Since CPCs are considerably higher during these days, you need to ensure that you're spending on the right keywords and targets. This one-time exercise before the event will help you ensure that your ad spends are directed toward targets that work well for your account and not on underperforming ones.
2. Increase Bids to Be Competitive
Every brand wants to get the highest possible visibility and rank during events such as Black Friday and Cyber Monday in order to capitalize on the increased traffic.
What does this mean for you?
An increase in CPC.
Therefore, it is advisable to raise the bids by 25% to 50% throughout the event days to stay competitive. You can also consider increasing bids by different percentages for different targets based on their past performances.
Ready to get started with Adbrew?
Adbrew's Bid Automation allows you to automate bid adjustments based on the performance metrics such spends, ACOS, sales, Top of Search Impression Share, unlocking granular campaign optimization and driving superior results.
3. Leverage Dayparting & Amazon Marketing Stream
Do you know which hours of the day bring the most sales for your brand? If not, consider gaining access to Amazon marketing stream data. With Amazon marketing stream data, you can view your ad performance metrics (spend, sales, ACOS, etc.) on an hourly granularity.
Once you have a clear understanding of when your sales start picking up, you can leverage Adbrew's dayparting capabilities to pace your bids and budget accordingly.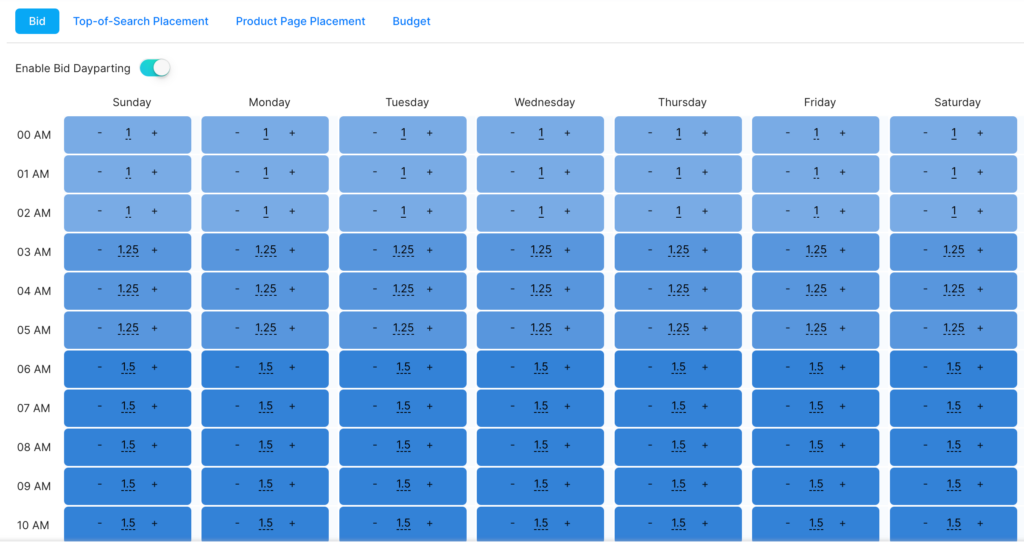 4. Increase Budget To Accommodate Increase in Traffic
Increased traffic combined with a higher CPC means you will need a higher campaign budget to keep your campaign running throughout the day.
The last thing you would want during this sales event is to go out of budget and lose the brand's visibility during the biggest days of the year.

Therefore, consistently monitor your campaign's daily budget usage of event days, especially for well-performing campaigns.
We recommend proactively increasing the budget by at least 40-50% in advance for the sales period. Additionally, be adaptable with the budget on the sales event day; if performance is strong and order numbers are increasing by the hour, allocate more budget to the campaign.
5. Launch Special Black Friday & Cyber Monday Campaigns
To make the most of this sale event, we recommend launching a few new campaigns that specifically target deal-hunting shoppers.
You can look at the historical search term data from the previous year's Black Friday and Cyber Monday sales period and identify the sale-related keywords that converted well for your brand. 
If you do not have access to this data, simply create variations of your top-performing keywords using event-specific terms such as "Black Friday," "Cyber Monday," and "deals."
For example, if you're selling handmade candles – Black Friday handmade candles, handmade candles deal, handmade candle Cyber Monday deals, etc., can be good keywords to target.
While it is tempting to target high search volume keywords such as "Black Friday" or "Cyber Monday deals," we do not recommend doing so if low ACOS is your objective because they will not only have a very high CPC but also an extremely low conversion rate due to a lack of clear buying intent.
Instead, we recommend adding them as negative exact in your Auto and other top-of-the-funnel campaigns to reduce wasted ad spend.
6. Create a Dedicated Page in Your Amazon Store Exclusively for Deals
To make it easier for potential shoppers to browse and discover all your Black Friday and Cyber Monday deals and discounts, create a dedicated subpage in your Amazon store and list all products with active deals.
Then, utilize Amazon Store-linked Sponsored Brands Ads to promote your deal ASINs and direct shoppers to the deals-specific subpage on your store.
Furthermore, if you're running off-Amazon ads, driving traffic to the deal-specific page can increase the likelihood of conversion from that traffic.
Your overall marketing strategy should be backed by solid brand defensive campaigns. The competition will be fierce during the sale event, which means your competitors will be aggressive on your branded keywords and ASINs. 
If you aren't aggressively defending your branded search terms and product pages, you might see your market share decline. Therefore, it's recommended to go aggressive on branded terms and products to protect your brand and make it difficult for your competitors to steal your customers.
Ready to get started with Adbrew?
Unlock the true potential of Amazon advertising with Adbrew's state-of-the-art PPC software
8. Set up Remarketing Campaign for Post-Event Days
As discussed above, it is always expected to see a significant jump in traffic on Amazon during Black Friday and Cyber Monday week. But a major portion of that traffic is just going to browse through your or competitor's products but won't make purchases during the sale.
This is why it's recommended to have Sponsored Display remarketing campaigns running so that you can reach out to those people who viewed your product but didn't buy during the sale event.
With sponsored display, you can target audiences from the last 7 days who viewed your advertised product or similar advertised products.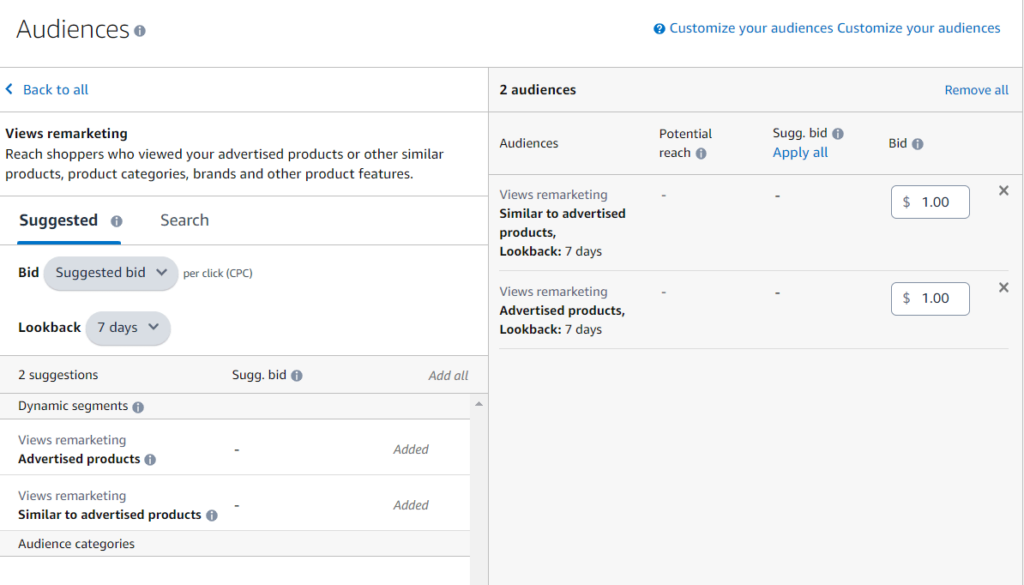 As Amazon sellers gear up for the excitement of Black Friday and Cyber Monday, these events unfold as incredible opportunities to elevate sales. With the countdown to the big day ticking away, there's still ample time to prepare effectively. We hope that the tips shared in this blog post will prove invaluable in ensuring you're well-equipped for this upcoming big shopping event.