As reported by Forbes, the global e-commerce marketplace boasts a staggering $6.3 trillion valuation, with Amazon contributing a significant 37.8% share.

In such a vast market landscape, the task of precisely targeting ads to the right audience becomes increasingly complex.
While Amazon DSP offers a wide array of targeting options encompassing interests, behavior, demographics, and more, it lacks the ability to target a tailor-made audience through behavioral analysis.
But, with the introduction of the AMC custom audience feature, things have changed now.
In this blog post, we will discuss what AMC custom audience is, how it is useful, and how you can create a custom audience.
What is AMC Custom Audience?
AMC Custom Audience is a feature within Amazon Marketing Cloud that allows you to create a custom audience by either writing an SQL query or using built-in templates. You can create the audience by utilizing all eligible signals in your AMC instance, spanning sponsored ads, Amazon DSP ads, Amazon Shopping Insights (beta) subscriptions, as well as your own signals that you choose to bring to AMC. This feature provides you with the option for more precise audience targeting based on richer inputs, both on and off Amazon.
The Amazon Marketing Cloud was previously limited to analysis and reporting. The introduction of AMC Audiences takes this a step further, allowing you to move beyond merely gathering audience insights and build custom audiences for precise targeting using Amazon DSP campaigns. You can create a custom audience by writing an SQL query, similar to how you use it for analysis and reporting.
Custom Audience: You can create your audience based on specific metrics and indicators related to your product or brand. This helps deliver your ads to relevant audiences, thereby improving the brand's performance.
Built-in Audiences: Now, if you don't have advanced SQL knowledge, Amazon has got you covered. It also provides some built-in queries that you can use with a basic understanding of SQL. These queries cover most of the best use cases for custom audiences.
Some of Popular Built-in queries available in AMC:
Audience with several detailed page views: You can utilize this query to target people who have viewed your product detail page multiple times but have not yet made a purchase.

An audience that clicked on your Sponsored Product ads but has yet to purchase: Shoppers clicking on your SP ads might be interested in your product. Targeting these individuals with DSP ads would help maintain their interest.

Audience based on Sponsored Ad keywords: This one is intriguing. Audiences searching for a product using specific keywords and who haven't made any related purchases can now be targeted with this query. For instance, if you sell dog food, you can target people who have been using this keyword in their product searches but have not yet made a purchase.

Audiences that abandon their shopping carts: Cart abandonment occurs when people add products to their carts but fail to complete the purchase. Targeting these audiences can be beneficial as a reminder to them to complete their purchase.
How to create an AMC Custom Audience?
Step 1: Go to 'Measurement and Reporting,' then click on 'Amazon Marketing Cloud.'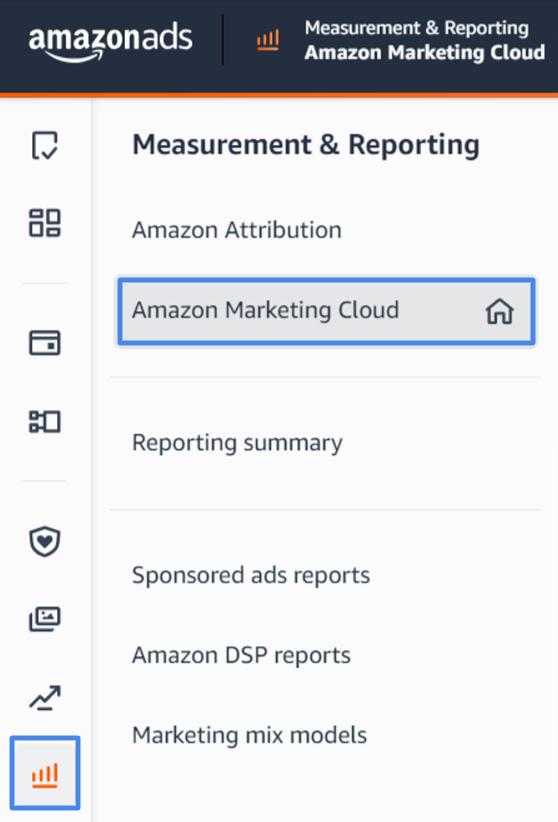 Step 2: Click on the 'Audience [Beta]' tab.

Step 3: Click 'Create Audience'; you will get two options. Choose 'Create with instructional query' to create an audience from Amazon's instructional query.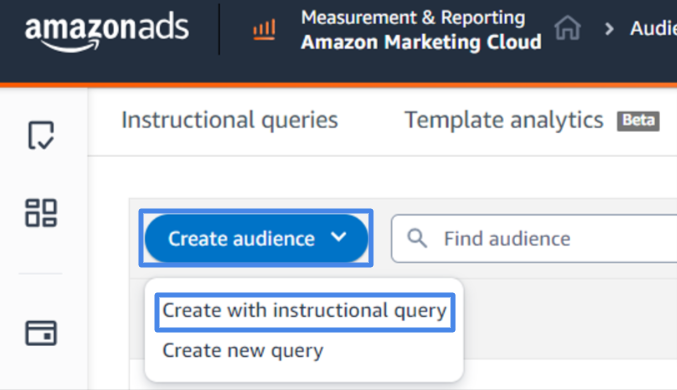 Step 4: As of now, Amazon offers five different built-in instructional queries. Click on the query for which you want to create a custom audience. This will take you to the audience instructional query page.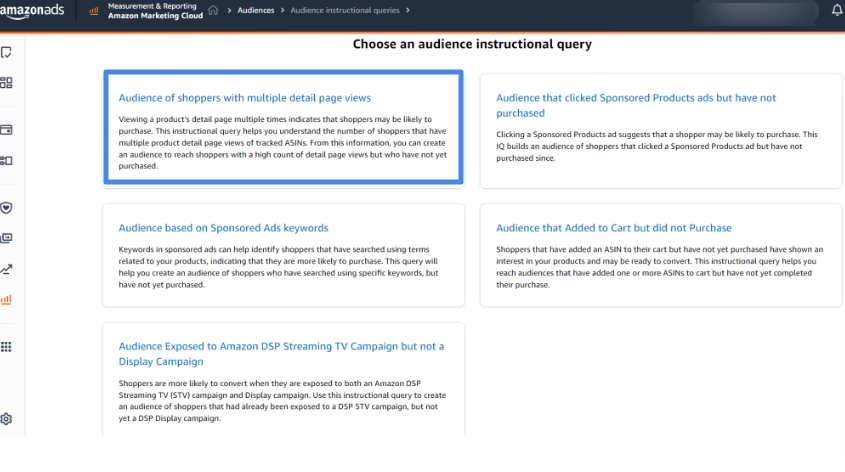 Step 5: Scroll down to the audience query template section and click on 'Open in audience query editor'.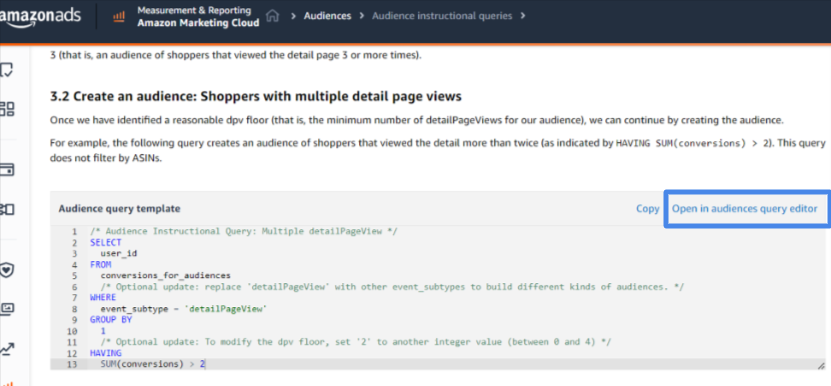 Step 6: Enter a name for your audience and choose the frequency at which the audience will be updated.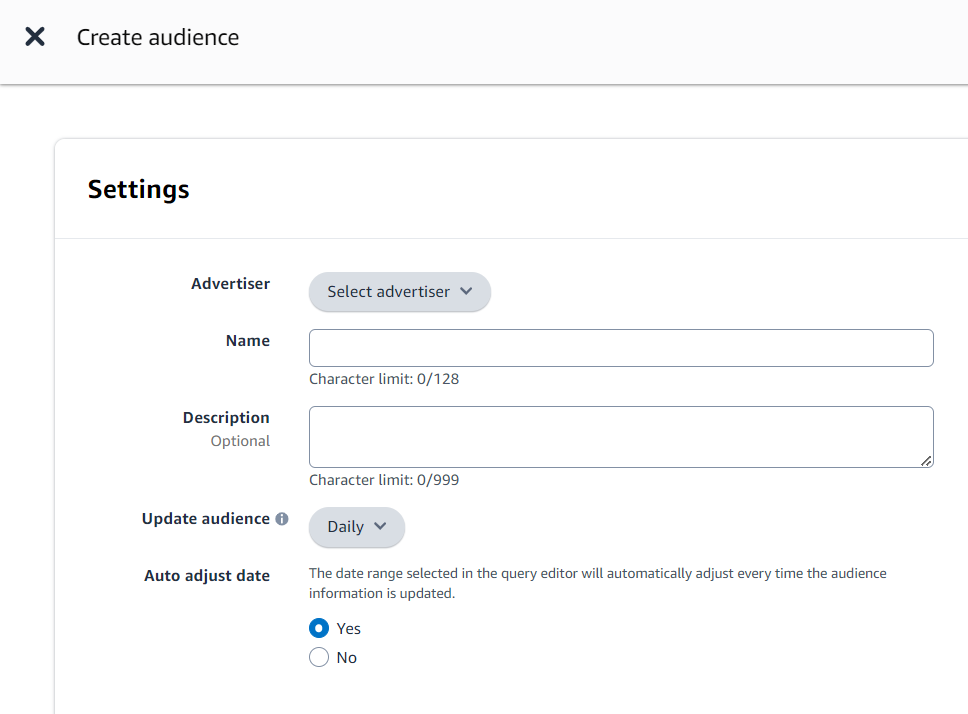 Step 7: Edit the query if you want to adjust it according to your requirements.
Step 8: Finally, click on 'Create Audience.'

AMC Custom Audience Use Cases:
Cross Selling or Up Selling: Let's say you have three products, A, B, and C. From the AMC Product Overlap analysis, you find that people who buy A and B also often buy product C. Now you can selectively target customers who have purchased products A and then B but have not yet made purchases for C. This will ensure that you do not miss any opportunity to reach your target audience with the right cross-sell and upsell offerings.

Cart Abandonment: People who have added your product to the cart are usually very interested in your product and more likely to purchase. With AMC custom audience targeting, you can reach the audience who have added your product to their cart but haven't completed the purchase.

Retargeting: Consider you are a chocolate manufacturer and sell chocolate boxes that would take 30 days for the consumer to finish. Now, with AMC Custom Audience, you can build an audience that purchased certain products over a month ago and has yet to engage with your brand again.
Ready to get started with Adbrew?
Adbrew can help you access the Amazon Marketing Cloud to gain actionable insights for your brand
Final Thought on Amazon Custom Audience
In summary, AMC Custom Audience has opened up a completely new opportunity for advertisers to target their audience based on their very precise actions. All it takes is a simple SQL query, and you're ready to target the audience with your DSP ad. Additionally, the instructional query that Amazon offers serves as a significant help for people with no SQL experience.