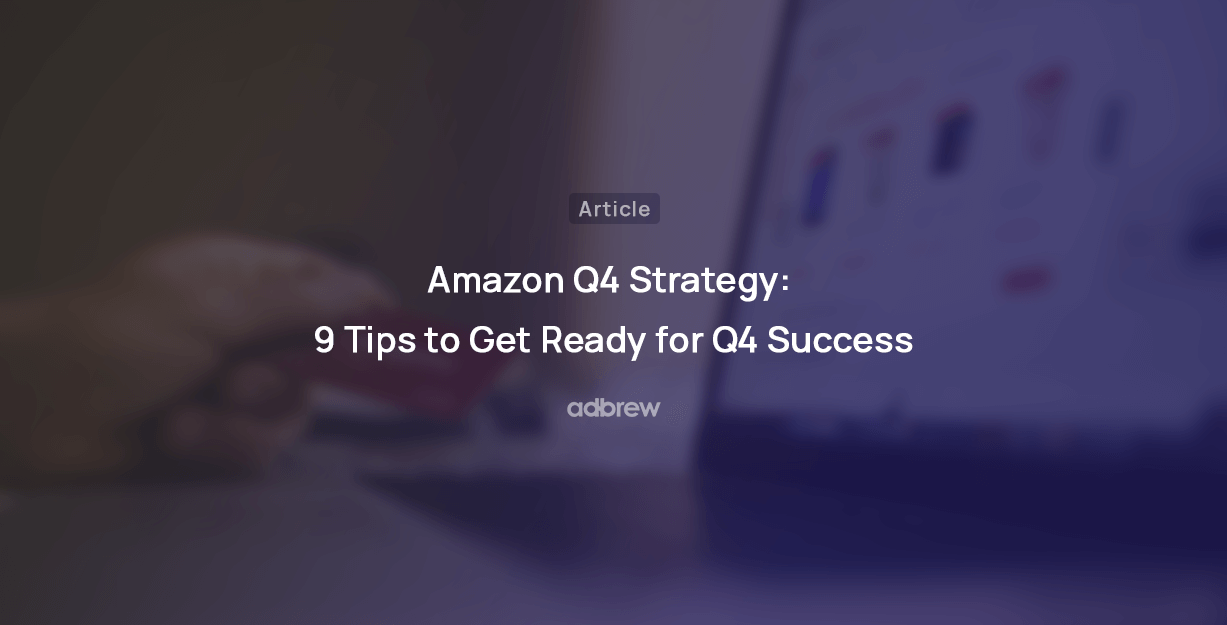 As the holiday season approaches, businesses are gearing up for the highly anticipated Q4 rush. To ensure a successful Q4, strategic planning and proactive measures are essential. In this blog, we will explore a series of crucial steps to prepare your Amazon business for the holiday sales surge.

From optimizing your product listings to running effective PPC campaigns and managing your inventory, these strategies will help you make the most of the festive season. Let's dive in and get ready to maximize your Q4 sales.
1. Optimize product listings
It's essential to review your product's listing title, description, and bullet points to ensure they convey all the important attributes of your products and effectively target the right keywords. 
Your main product image and title can significantly impact your success, so consider utilizing Amazon A/B testing to run experiments with different main images and titles for your listings until you find the right one that delivers the highest conversion rates. 
Additionally, incorporating a video demonstrating your product in the listing and ensuring that your A+ content aligns with the theme of your Q4 branding can further boost your performance.
2. Audit your Amazon PPC account
Before gearing up for Q4, it's highly recommended to undertake a comprehensive audit of your Amazon PPC account. This audit serves the purpose of assessing the overall health and performance of your account, helping you identify any areas that may require attention or improvements.
Consider benchmarking your current campaign setup against last year's Q4 campaigns that worked best for you. Adbrew's audit tool can be a handy option for evaluating the overall health of your PPC account and quickly identifying improvement opportunities.
3. Discover emerging trends and products
Stay informed about current trends to identify opportunities for new additions to your product line. Make sure that these new products are ready to be listed before October arrives. It's essential to avoid the pitfall of having unoptimized listings during the critical Q4 period. G
ive yourself the time to conduct A/B testing on these listings before the crucial launch date, ensuring they are finely tuned for maximum success. This proactive approach can significantly increase your chances of capitalizing on emerging trends and capturing the attention of eager holiday shoppers.
4. Ensure early setup and testing of your Q4 ads campaigns
After the audit and trend analysis, if you find out that you need to set up new campaigns as part of your Q4 strategy, create these campaigns at least one to two weeks prior to the start of Q4. This proactive approach is essential because specific campaign types, such as Sponsored Brands and Sponsored Brand Video Ads, might require approval from the Amazon ads team. 
Additionally, keep in mind that some new campaigns may take time to gain impressions and traction. Therefore, early creation ensures ample time for preparation and optimization
5. Protect your Branded searches
To safeguard your branded searches and prevent any loss in branded sales, it's crucial to run defensive campaigns. Utilize all three ad types with branded keywords & ASIN targets to ensure people can quickly find you when they are searching for your branded keyword or exploring a product page from your catalog. This proactive approach ensures that your competitors are not stealing sales from customers who are already aware of your brand.
Q4 usually witnesses a 25% increase in sales. While this figure may not be universal, a sales boost is highly likely. Consider reviewing your 2022 Q4 sales report to forecast your 2023 Q4 sales demand and plan your inventory accordingly.
7. Prepare for Q4 sales events in Advance
Various sales events, such as Prime Big Deal Days, Thanksgiving, Cyber Monday, Black Friday, and Christmas, which may vary across different marketplaces, are on the horizon. It's advisable to proactively brainstorm and formulate your strategy ahead of time. Additionally, plan your deals and promotions for the upcoming sales events based on your past performance and sales margin.
8. Focus on Ranking Organically for the important keywords
Ranking organically for important keywords during this high-sales-volume period is crucial. Review your search term report to identify keywords with high order volume and low sponsored impression rank. Ensure that your listings include all of these keywords. Additionally, consider running aggressive ad campaigns targeting these keywords to boost sales velocity and, ultimately, improve organic rankings for those keywords.
9. Leverage your Brand Store
Consider revamping your brand store pages with a unique holiday theme, as it will appeal to more people during this holiday season. Additionally, create a dedicated deals page to showcase all the products for which you are offering deals. This will make it easy for anyone visiting your brand's page to find the deals and discounted products.
Ready to get started with Adbrew?
Adbrew helps you thrive on Amazon with powerful automation, expertly curated strategies, and data-driven insights.
As we wrap up our discussion on preparing your Amazon Q4 strategy for 2023, it's evident that thorough planning and strategic execution are crucial. By optimizing product listings, conducting account audits, staying attuned to emerging trends, and setting up early Q4 campaigns, you can position your business for success during the holiday season.