How to Find Click Threshold for Search Term Negation in Amazon Ads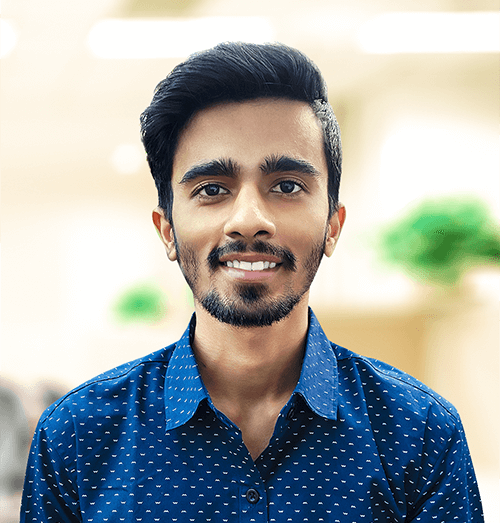 Shivam Kumar
03 Jan 2023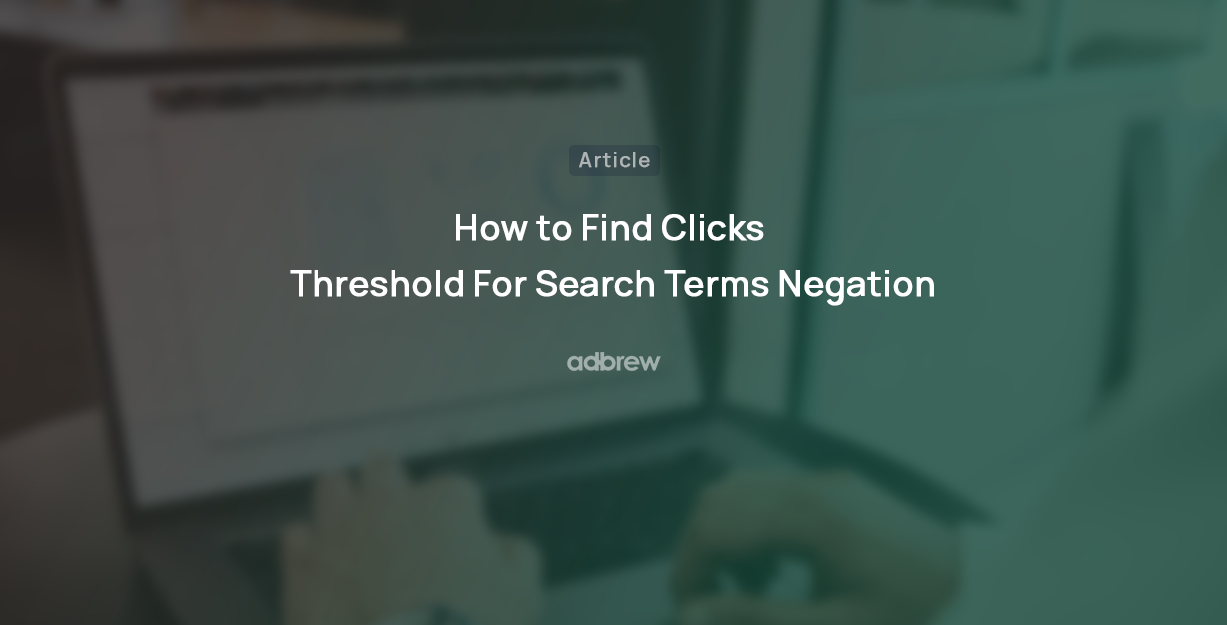 Do you want to know how many clicks you should give a search term before adding it as negative in an Amazon Ads?
You have come to the right place.
In this post, we will share some important factors you should consider while making a search term negation decision for Amazon PPC.
4 Important Factors to Consider While Negating Search Terms with Amazon PPC
Your "auto" and "broad" match campaigns can trigger ads on a lot of irrelevant search terms.
Begin with checking the relevancy of search terms with your advertised product.
If the search term is not relevant to your product, you can negate it even after just 1-2 clicks to stop bleeding your spends on irrelevant searches.
2. Nature of Search Terms
You can categorize all the search terms into three different buckets:
A. Branded Terms
Keywords that are related to your brand (Example; Apple Airpod can be a branded keyword for Apple)
If it is a branded keyword, then we do not recommend negating it even after a certain number of clicks.
While checking branded keywords, considering the relevancy of keywords with the advertised product is also important.
For example, if 'iPhone charger' ad is showing on "iPhone USB – C Power Adaptor", it is all right but if it showing on "Macbook USB Adapter" then you may want to negate the search term.
B. Visibility Terms
There will be some important keywords where you may want to maintain visibility to remain competitive and relevant in your market.
For example: A brand selling gaming mouse may wish to maintain their visibility on high-intent keywords like "RGB mouse" or "wireless Gaming mouse"
In that case, we would not recommend negating those search terms, instead, try to optimize those targets through bids.
C. Generic Terms
Any other keyword or ASIN that does not fall in the above two categories can be considered a generic term for your brand. If it's a generic term, you can use the advice that follows next.
If a search term has passed the above two criteria, you finally need to consider the conversion rate of the advertised product.
We recommend waiting till at least 2x to 3x of the clicks required to get at least 1 conversion based on the CVR of your product.
For example, if you are selling a home improvement product and your conversion rate is 15%, you can expect to get a conversion after almost every 7 clicks. In this case, you can wait for 15 to 25 clicks before negating a search term.
On the other hand, if you are selling an apparel product and your conversion rate is 5%, you can wait for at least 50-60 clicks before negating a search term.
If you know your maximum cost per order acquisition and average cost per click, this can also help you streamline your search term negation decision.
Let's understand it with an example:
Let's say your maximum cost per order acquisition is $10 and your average CPC over the last 30 days is $0.25. That means you can wait for 40 clicks (10/0.25) before negating a search term.
How to Automate Search Term Negation For Amazon Ads
Figuring out the right click threshold for every product and then analyzing the search term daily to find terms for negation can be tedious.
This is where you can use Adbrew's search term negation automation with "Statistically Significant Clicks" attribute.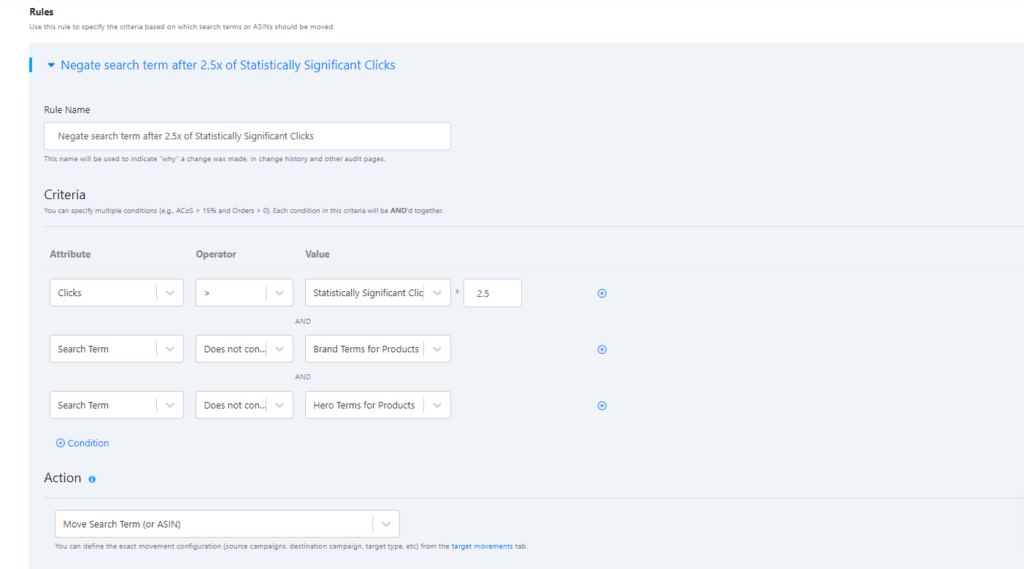 This attribute automatically calculates the ideal clicks for a conversion based on the historical performance of the campaign.
If you don't want to use the statistically calculated clicks by the system, you can obviously define your clicks threshold in absolute value.
Ready to get started with Adbrew?
Use Adbrew's Search Term Negation Automation to dynamically and accurately reduce wasted ad-spends
Final Thoughts on Search Term Negation
There can't be a single click threshold for all products or brands on Amazon.
It should be purely based on key metrics like conversion rate, max CPC, and CPC of the advertised products.
What are the other factors that you consider while negating a search term in Amazon Ads?
Let us know in the comments!
Related Blogs
The Amazon Black Friday and Cyber Monday sale is just around the corner. It's no secret that this marks one […]